Buy fuel bar
A fuel bar is a minimalist minibar, which is made in a steel jerrycan. We have chosen a steel jerrycan because it stands for masculinity, nostalgia and these products look beautiful and robust. In the past steel jerrycans were used by anyone with a car or other machine which needed gasoline or oil once in a while. Petrol or oil was stored in the jerrycans so that they could easily be refilled at home or on the road.
When you order a fuel bar from Designedbyman.nl, it is made by real professionals. We ensure that the jerrycan will look completely smooth from the outside, they look like new. A mini wine bar can be realized on the inside or space can be made for liquor. Just what makes you happy.
A fuel bar as a gift
What are you giving someone as a present? How many times have you asked someone "do you know something for his birthday?" Probably innumerable times. Coming up with a gift is a difficult task for many of us. We are afraid that someone will not like our gift or that they already own it. We can reassure you: you are in the right place with a fuel bar.
A unique, cool and beautiful gift to give. Even better to get. With a fuel bar, you have a gift that is not for sale on every corner of the street. It was handmade and for men and some women. It is a durable object; you can enjoy it for years. So, you give something that really benefits someone, not just for a while but for a longer period of time. Those are the ingredients for a successful gift.
Where do you use a fuel bar?
Having a fuel bar offers possibilities. You have received a fuel bar, and you go with your relation to the beach for a day, or a picnic, and pull a jerrycan from the car. The other will not expect a drink, but when the door of the jerrycan is opened, surprise gives way to joy. Wine or a mixed drink makes people happy, it loosens us up, and it can make an evening. That's nice, but it gets even more fun when you can take this drink with you in style.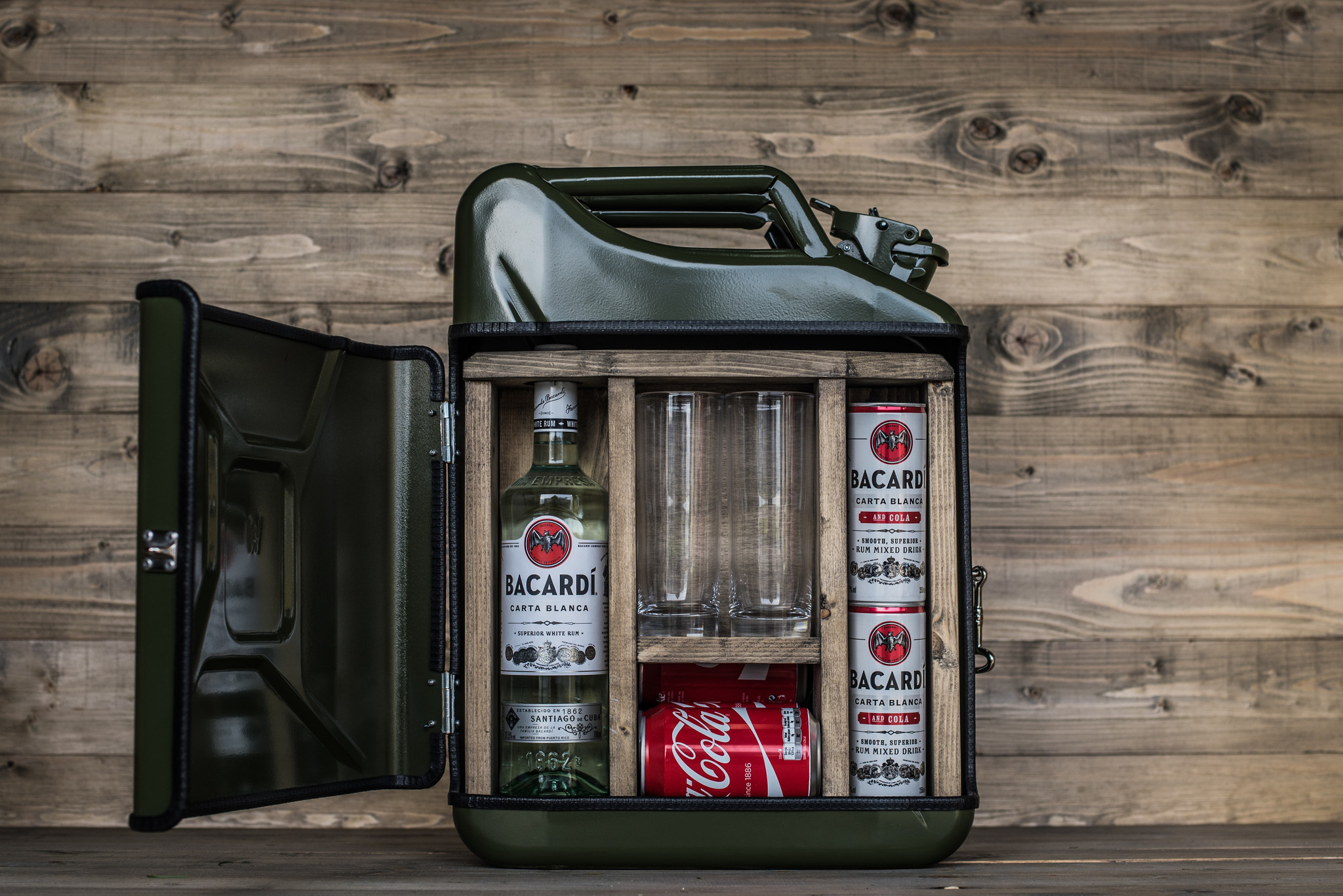 In addition to taking the fuel bar with you, you can also use it as a cool decoration within your interior. A black or dark green steel jerrycan would not look improper anywhere. We cannot believe it, but is the fuel bar not allowed in the living room? Then make sure you can store it in your mancave!
Are you well informed about fuel bar? Then you are probably also interested in our other products. You can click the link below for more information.